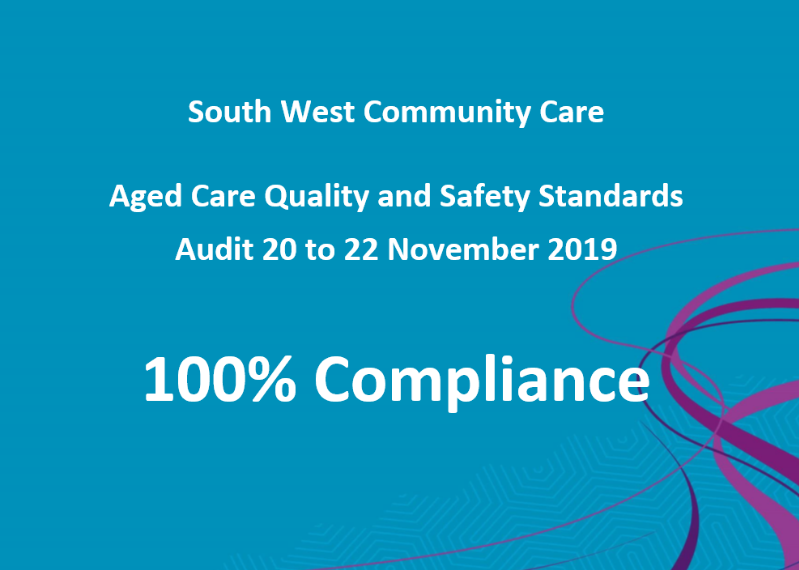 Perfect Audit Score – 100% effort produced 100% outcome!
South West Community Care recently received 100% compliance in a Government audit on industry standards conducted by the Aged Care Quality and Safety Commission.
South West Community Care provides aged care services in the shires of Harvey, Dardanup, Capel and the City of Bunbury.  These include in-home care and services, home care packages, outings, social groups and respite to elderly people in the community.
Chief Executive Officer, Claire Roach said she was delighted with the audit result in light of the newly-introduced aged care standards.  The new standards were implemented in July 2019 and apply to every aged care provider in Australia.
"We are proud of the outcome because our industry is facing some significant challenges right now," she said.  The aged care industry is the subject of a review by the Royal Commission into Aged Care Quality and Safety.
Ms Roach said the company's aim was to help elderly people stay in their homes for longer.  "We take our care and services into people's homes so that they can stay at home for as long as possible – sometimes until the very end," Ms Roach said.
Belinda Burton, Business Systems Manager has responsibility for continuous improvement in the organisation and has been instrumental in the development of a new quality system designed to meet the standards.
"We now have a state-of-the-art quality system.  The result of 100% compliance demonstrates that we know and adhere to the aged care standards," Mrs Burton said.  "South West Community Care really is a quality aged care provider".