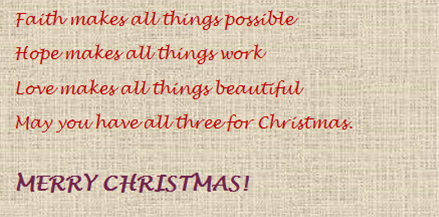 It is with both joy and sadness I write this last Christmas message to you – the consumers.  As you may have heard, I am retiring from my CEO position early next year.  I have absolutely loved my job here at SWCC.  I have enjoyed talking with consumers, delighted in working with some wonderful staff and have found satisfaction in knowing that our service has made a difference to people's lives.  What more could a CEO ask for?
I hope that you have a wonderful festive season.  Christmas is a time for connecting with family and friends, and if you haven't seen a loved one for some time, maybe now is the time to make the effort and reconnect.  Please enjoy your immediate family time at Christmas.  It doesn't matter if they are not "blood relatives", it can just be someone you feel close to.  Hopefully everyone has someone they can call "family" and spend time with.
So, for the last time as CEO, I wish you all a safe, happy and peaceful Christmas.
Claire Roach
Chief Executive Officer.